choosing the Belvedere for Lip Fillers
Lip fillers are popular in the UK, with many seeking fuller, plumper lips or better symmetry to define the cupid bow. With this procedure a qualified and experienced practitioner injects approved dermal fillers to plump up your lips. These fillers are also known as hyaluronic acid fillers a substance found naturally within the body and used safely in the medical profession for many years.
The procedure is quite safe when you pick a reputable and experienced medical professional for the job. Many doctors are against the procedure being done at a beauty salon or spa.
A beautician doesn't have the same training as a qualified medical professional, and they are not able to prescribe medication if something goes wrong. The beautician might not be able to dissolve the filler if you don't like it.
Lip Augmentation Using Hyaluronic Acid Fillers
The length of time the filler may last will depend on the individual patient and it should last 4-6 months.  The entire procedure takes about 20-40 minutes when conducted by an experienced doctor. You can decide which parts of your lip you would like to be filled, even choosing one lip or both lips. Your doctor will advise you on the volume of filler needed to suit your facial features.
The operation should be painless and your doctor will apply a numbing cream before the procedure. You may just feel a sensation similar to someone pinching your lips. The results are almost immediate. Some patients have a slight swelling for a maximum of 24 hours. After that, your lips will settle down and be that way for the next 5-6 months depending on the type of filler you used.
If for any reason you don't like the results, we can administer an injection that will dissolve the filler in a few minutes and bring your lips back to their original shape. This is only a consideration if you don't like the results following your procedure.
Our doctor is the best person to advise whether you need to do both lips, one lip, or part of one lip depending on your facial features. It is advisable to increase the size of your lips gradually for a more natural look. You should not exercise, get a facial, or massage the face soon after the procedure as this can increase the blood flow to the face.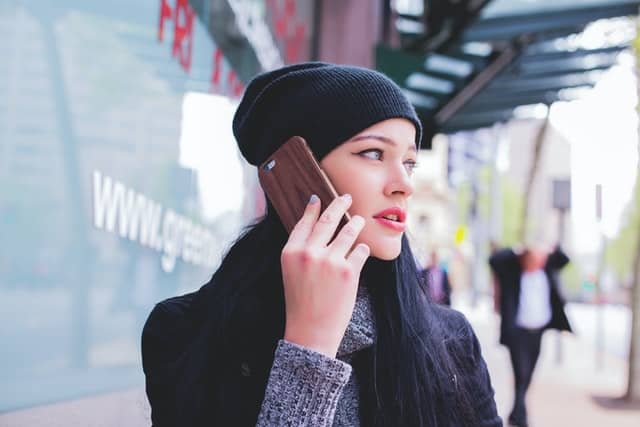 Ready to discuss having lip fillers?
Get in touch with our friendly and helpful team now, for a no-obligation chat about your transformation.
Contact the Belvedere Clinic
Lip fillers remain one of the most popular cosmetic procedures in the UK and one of the top Google searches when it comes to cosmetic surgery. Below we explore 8 frequently asked questions about lip fillers.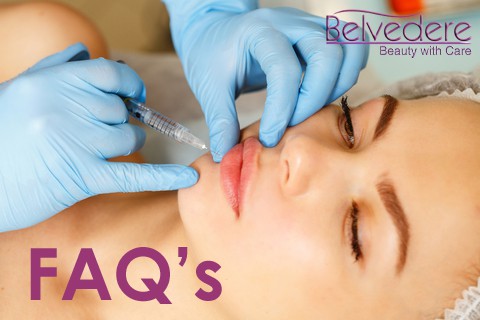 What are lip fillers made from?
Lip fillers are made of Hyaluronic Acid (HA), which is naturally produced within the body and can be found in the connective tissue. This is basically a large sugar molecule, and as it is produced naturally, the body happily accepts it when injected into your lips.
As with any cosmetic surgery there are a few minor risks, but these are dramatically reduced when you use an experienced and qualified cosmetic surgeon. Your cosmetic surgeon will conduct a full medical history and discuss any potential risk factors.
Is the lip filler procedure safe?
When the treatment is undertaken by a professional, then you should feel no pain. They should administer a topical anaesthetic before injection, so although you will feel slight pressure, you shouldn't feel painful.
What will happen during the consultation for lip filler treatment
It is vital to have a consultation prior to treatment. The cosmetic surgeon will take a full medical history and listen to any concerns. They will then talk about the best treatment option for you and outline the procedure.
What happens during the lip filler procedure?
A topical cream anaesthetic will be applied to your lips. A small needle is then used to inject the required amount of filler. The entire procedure should take no more than twenty minutes.
Will my lips bleed during lip filler treatment?
This is something that many individuals worry about, but there really is no need. As small, fine needles are used, they will only create tiny pinpricks of blood, that stop bleeding incredibly quickly.
Does lip filler treatment result in swelling?
The amount of swelling very much depends upon the amount of filler that has been injected and the skill of the person injecting it. Swelling should be minimal and should visibly reduce within a few days.
How long do lip fillers last?
Lip fillers should last up to 6 months, and in many cases, they can last up to 12 months.
How much does lip filler treatment cost?
Lip filler treatment prices start from £200
You may also be interested in these procedures
Skin Peels
Find out more about skin peels
Dermal Fillers
Read more about dermal fillers
Anti Wrinkle Treatment
Read up on anti wrinkle treatments