Breast reduction surgery is a surgical procedure that reduces the size of the breasts. It may be done to reduce pain in the breasts, breast tenderness, and the weight of large breasts. Breast reduction surgery may also improve the appearance of breasts. 
Chloe Meadows, star of MTV's reality show The Only Way is Essex, recently had breast reduction surgery here at the Belvedere Clinic. In an interview with the Daily Mail, she discusses her motivations for the surgery and how it has changed her life.
Meadows is not the only celebrity to undergo breast reduction surgery. Singer Kelly Clarkson and actress Melissa McCarthy have both spoken about their experiences with the procedure.
For many women, breast reduction surgery is a life-changing decision. It can help improve self-esteem and make everyday activities like running or swimming much more comfortable.
If you are considering breast reduction surgery, be sure to consult with one of our qualified surgeons who can help you make the best decision for your individual needs.
Before the surgery, you should meet with one of our fantastic surgeons to talk about your medical history, including any previous surgery, rheumatic diseases, breast cancer, fibromas, implants, severe injuries, and possible reasons for missing your appointment. Your surgeon will also ask about your family's health history.
A breast reduction can be a feasible solution for severe over-sized breasts that have burdened you over time. Be completely open with the surgeon about your medical history. During the consultation, be prepared to discuss any emotional issues you've dealt with regarding your breasts, and how they may have physically or emotionally felt to you.
What are the benefits of breast reduction?
There are many benefits to having a breast reduction, this is lists the most popular benefits for breast reduction. 
– Have smaller breasts that are proportionate to your body size.
– The results are permanent and will last for life.,You can have permanent results with this procedure, although there will be some loss of breast sensation. After your surgery, you will be able to choose smaller bras.
– You can have smaller breasts that are proportionate to your body size.
– Your breasts will change shape, and you will have fewer problems with your bra., 
– Big breasts rub together and excess sweat may create greater opportunities for the transmission of germs via rashes
– Improved posture
– Reduced neck, back and shoulder pain
– Rash prevention caused by big breasts rubbing together and excess sweat
– Participation in sports and physical exercise without discomfort
– No more unwanted attention focus on your breasts
– Enjoyment of a wider selection of clothes such as fitted and strappy tops, bras and swimwear
– Improved self-esteem and confidence
Read what Chloe Meadows had to say about the benefits she got from her procedure in her interview with the Daily Mail 
What does a breast reduction involve?
A breast reduction is performed under a general anaesthetic and will typically take about an hour and a half. Your breast surgeon will lift your nipple into its new position whilst keeping it attached by a 'stalk of tissue'. This tissue is cut and the nipple is permanently moved several millimetres towards your chest.
Once the breast-reduction breast is contoured to your chest, the nipple slightly protrudes. 
What Are Potential Risks and Complications of Breast Reduction?
Early complications include swelling, bruising and altered nipple sensation.
These normally settle down with time.
Occasionally patients experience infection, haematoma
Nipple loss due to interruption of blood supply has been described but is rare.
Complications of any general anaesthetic include potential cardiac or respiratory problems and blood clots in the leg
The scars will be red / pink for a number of months however some patients developed abnormally thickened scars which may require additional treatment in the clinic.
Recovery after a breast reduction
Usually you will stay in hospital overnight.
We will ensure you are comfortable in one of our private en-suite rooms with nursing care as required and access to our freshly prepared a la carte menus.
Your breasts and ribs will be sore and swollen for a few weeks after your operation.
You can take painkillers to keep yourself comfortable.
You will be able to do light activities after two weeks and return to normal exercise within six weeks. You should not lift heavy things for several weeks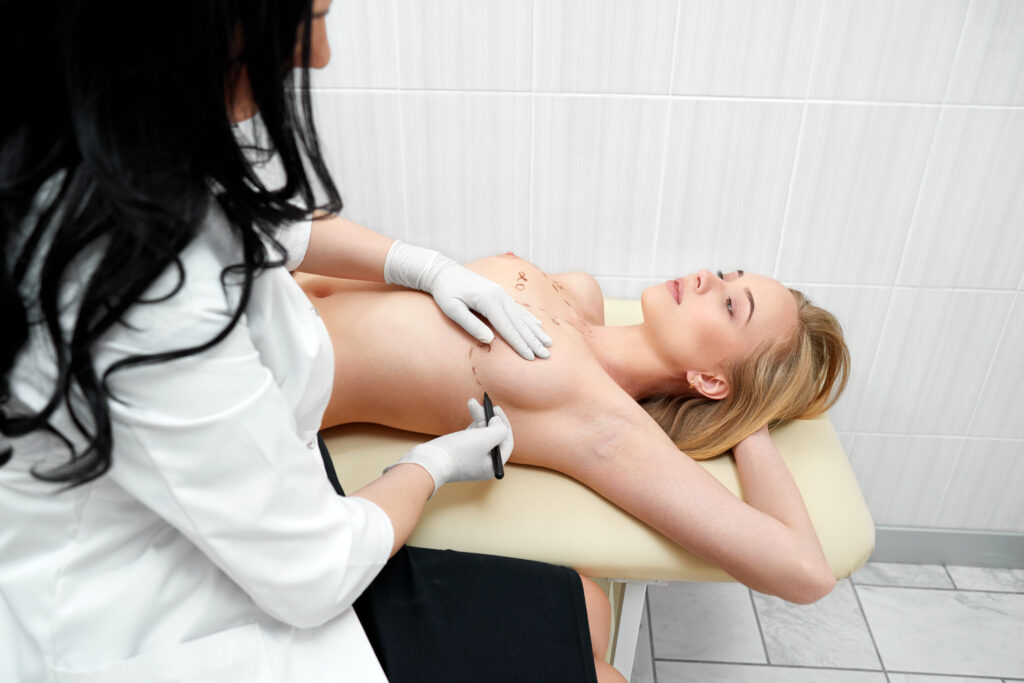 What is the cost of a breast reduction?
Your cost will vary depending on factors like your individual circumstances and how extensive a breast reduction surgery you require. Your patient coordinator will be able to confirm the costing once you have seen the surgeon and these factors are confirmed.  
Book your consultation with us today in whichever way works best for you, instant chat, whatsapp or text!