Breast Enlargement London
boob job ~ breast augmentation ~ silicon implants ~ breast enhancements ~ bigger boobs ~ London, Essex and Kent
choosing the Belvedere for breast enlargement
What ever you want to call it – a boob job, breast augmentation or breast enlargement, there's no denying that this procedure can improve your confidence as well as your appearance.  Breast enlargement surgery is a procedure to increase the size and shape of the breasts. It restores the balance between your breasts and hips, making your hips look smaller and creating a more proportional figure.
The Belvedere Clinic's breast enlargement procedure offers excellent value for money as we own our own hospital allowing us to pass the savings on to our customers.  Remember, while price is a big consideration so too is the quality of service, your safety and the aftercare provided.
We use the very latest breast implants which come with a lifetime guarantee.  The procedure takes place in our very own private hospital and of course we provide the very best post-operative and follow up care.  We can boast that we have carried out over 35,000 procedures for breast augmentation in over 28 years.
If you are considering breast enlargement in or around London, Essex or Kent or have any questions regarding the breast augmentation procedure, get in touch with us by email, telephone or using our contact form.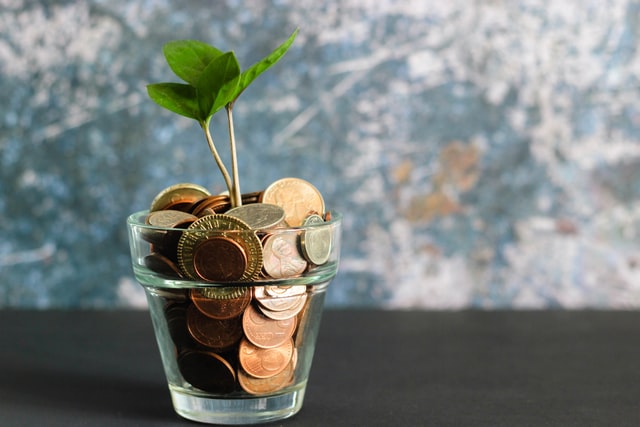 Finance Options
If you thought you couldn't afford plastic surgery, think again. Find out whether we can provide you with finance for your procedure. Meet a few key criteria and you could be eligible for a loan.​
Click for Finance
What is the Procedure for Breast Enlargement Surgery?
Breast augmentation planning begins with an overall evaluation to ensure you are healthy enough for the procedure. This evaluation minimises any possible surgical risks. A complete history of any health disorders, medications, and allergies will be considered in pre-operative screening prior to your surgery.
The size and selection of appropriate breast implants (round or anatomical/teardrop) and expected aesthetic appearance is something which you will discuss with your surgeon in detail during your consultation. Initial results can be seen immediately, however, it can take between two and four months to appreciate the final result of your breast enhancement. Wearing a support bra helps during the recovery period.
There will be scars of about 4-5cm in the creases below the breast where the implants have been inserted. These will fade over time as the wounds heal, and this usually takes around three months. The scars continue to improve and are normally only just visible at six months. The breast enlargement procedure is performed under a general anaesthetic.
Our breast surgeon may wish to collaborate with your primary care provider for any additional information. Blood testing and a baseline mammogram for women over the age of 35 or those with a family history of breast cancer may be recommended prior to any surgical procedure.
It is important to recognise that similar to other medical devices, breast implants – saline or silicone – are not lifetime devices. It is possible that at some point in your life they will need to be removed or replaced, and you should talk to your surgeon about this prior to breast enlargement surgery to understand fully what this means for you.
Your breast enlargement procedure includes the following:
Your doctor plays a pivotal role in explaining your options for breast enlargement surgery. Breast tissue, body type and implant type and size will all be considered before you and your doctor finalise a surgical plan.  This is an overview of the most common incision choices your doctor can offer.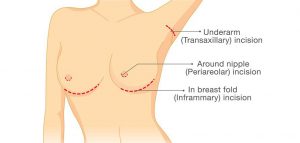 Inframammary Incision:
An inframammary incision is placed in the fold beneath your breast. This location can accommodate every size and shape of implant, is often concealed, and is known for fast recovery times. An inframammary incision gives your surgeon the most precise access to where your breast implant will sit after surgery.
Periareolar Incision:
The periareolar incision is performed on the border of the dark skin around your nipple. It is known to have fast recovery times, but does not accommodate every size and shape of implant.
Transaxillary Incision:
A transaxillary incision is well concealed in the armpit and more removed from the breast area, so it is less noticeable. Recovery times are a bit longer and not all implant sizes and shapes can be accommodated.
Your breast implants may be placed  above the muscle (subglandular) or below the muscle (subpectoral).
Your Plastic Surgeon will decide which placement location is best for you based on your ideal cup size, goals, breast type amongst other factors, to create natural looking breasts.The location choice will be part of your surgical plan formulated for safety as well as your personal satisfaction.
We use implants that are fully approved by the FDA and come with an implant life time guarantee.
Belvedere Clinic Patients - Breast Enhancement Stories
Holly Rawlinson came to the Belvedere Clinic in March, she was very happy with her consultation and choice of implants.
Holly has decided to vlog her journey over 4 videos, this is a great way to help other people in making that important life changing decision to under-go a surgical procedure. Holly also explains what to expect before and after your cosmetic surgery procedure.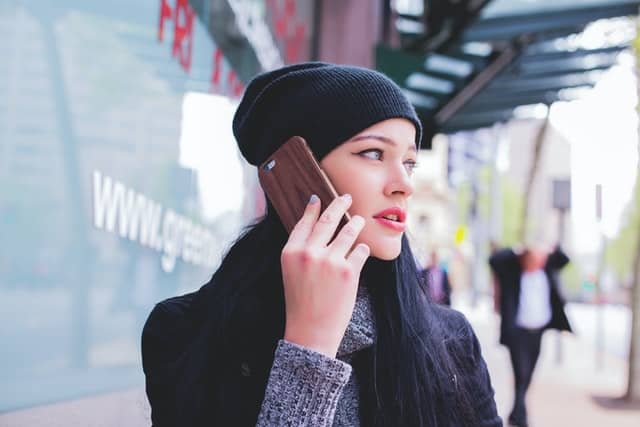 Ready to discuss your breast enlargement surgery?
Get in touch with our friendly and helpful team now, for a no-obligation chat about your transformation.
Contact the Belvedere Clinic
Discover more about the breast enlargement process
Before embarking on any type of surgery, it's really important to understand as much as you can about the surgical procedure, the risks involved and how to ensure a quick and successful recovery.  We've provided as much information as possible below to support your research.  Click on the links below to read the usual questions we get asked about the breast augmentation procedure; the implants we use for your transformation and take a look at some of our previous customer's before and after pictures.
FAQ
Read FAQ about breast enlargement surgery at the Belvedere Clinic.
Motiva Breast Implants
Find out more about the breast implants that we use here at the Belvedere Clinic.
Before and After Pictures
See some of our previous customer's before and after pictures.